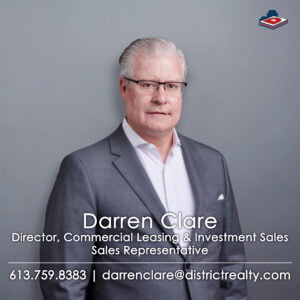 We are pleased to announce a new member of District Realty's Commercial team. Darren Clare has been appointed the position of Director of Leasing & Investment Sales.
Darren brings over 20 years of experience in Ottawa's diversified retail real estate market and  a wealth of knowledge  in industrial, land and office markets. Darren has concentrated on landlord/tenant representation, assisting his clients to achieve cost-effective solutions for their business through market and lease analysis and ultimately negotiation on their behalf.
He is familiar with specific nodes for the particular fields such as industrial parks, office campuses, street fronts, power centres, strip centres as well as regional malls. Growing up in eastern Ontario, Clare has a complete understanding of the overall market and various business nodes in Ottawa and the surrounding area.
Darren has also worked extensively representing the landlord side of the development equation, giving him keen insight onto both sides of the leasing equation, thus making him an effective negotiator in delicate renewal negotiations for his many landlord and tenant clients.
Having been involved in the Nepean Minor Hockey Association and Ottawa South United Soccer Association, Clare enjoys most sporting activities – specifically hockey, rugby and soccer.